Večeras su dinamovci imali zadnji trening prije sutrašnje utakmice zadnjeg kola u grupi protiv Anderlechta. Kao što je poznato, modri su već osigurali naslov prvaka skupine no nema mjesta opuštanju. To je rekao novinarima i trener Nenad Bjelica.
Cilj nam je da pobijedimo i u sutrašnjoj utakmici i to zbog više razloga. Jedan je financijski a drugi poboljšavanje kvocijenta kojim bi osigurali da za dvije sezone Hrvatska ima dva predstavnika u Ligi prvaka. Svi su igrači spremni, i oni koji su igrali u nedjelju a i oni koji su odmarali. Imamo širok izbor a sutra ćemo vidjeti tko će krenuti, vjerujem, po nove bodove, naglasio je Bjelica.
S tim se složio i Petar Stojanović koji je zajedno sa svojim trenerom nazočio tiskovnoj konferenciji.
Moramo krenuti onako kako znamo. Anderlecht je jaka momčad ali mi želimo još tri boda koji bi bili nagrada našim navijačima, rekao je Stojanović
Dinamo će zatvoriti sezonu u nedjelju kada u zadnjem kolu na Maksimiru gostuje Hajduk, ali o tome, Bjelica po običaju nije ništa govorio.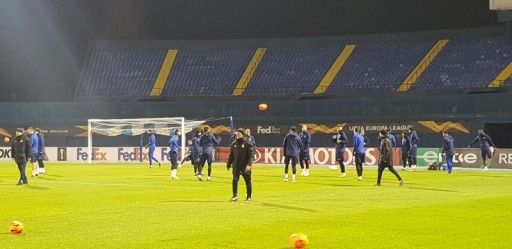 Odigrajmo prvo protiv Anderlechta a onda ćemo se pripremati za Hajduk, rekao je Bjelica i poveo igrače na travnjak.
ŽELJKO KRZNARIĆ
Ukoliko Vam se svidio članak, lajkajte, dijelite, komentirajte...